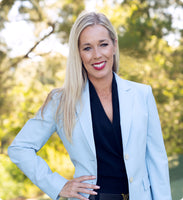 Meet Rachel
I love helping people feel better. I am a wife and mother of 3 boys.  My life is my work and my work is my life. Every day, I put together my sons', husband's and my own supplements. People look at me like I am crazy sometimes, but I truly love what I do, and I live it.   
My journey into this field started at age 19. I went to work in post-op surgical care in a hospital during my second year of college. In the hospital, I witnessed things that changed the course of my life. I saw people die, but I also saw people recover from massive injuries, like gun shot wounds to the head, leaving the hospital walking with almost no lasting effects, after being in a coma for 9 months. I started to see that the human body has a miraculous ability to heal itself, given even the smallest amount of help. The hospital patients were not being fed supplements, they were not even being fed good food. It became apparent to me how much we can heal and thrive when we add in quality food and quality nutrients.
I started applying these principals to myself first.  I had been chronically ill, after getting mono at age 15 after an appendectomy.  I had taken a lot of antibiotics in one year, because of these two events.  I got strep throat at least once a year thereafter, for which I was always given penicillin.  Finally, a doctor told me he could not give me any more penicillin when I was really sick at one point, around the age of 20.  He did me a big favor. I was floored, but I went to an herbal pharmacy that day, and bought Echinacea, which supports the immune system.  This was my first purchase of a supplement.  I had no idea what I was doing.  I had been raised for the majority of my life on whole foods, so I had a bit of a foundation, much of which I didn't appreciate at the time.  I decided I was not going to be sick any more if I could help it, and started reading every book on nutrition I could get my hands on. I changed my major to pre-med, because I thought becoming a doctor was a good application for my passion.  However, my work in the hospital caused me to become fascinated with the body's healing capabilities.  I could not decide what route I should take.  I admired professionally a gentleman named Dr. Earl Mindell, considered the "Father of the Nutritional Revolution", as I had read several of his books.  Through serendipitous events, I was able to arrange a meeting with him for career advice.  We met at his holistic pharmacy (a museum of a sort) in his backyard in Beverly Hills. He spent at least an hour with me, and he recommended holistic nutrition.  Based on his input, I began to study this field.
APPROACH
I approach health from the ground floor up. When we address the fundamental nutritional requirements in the body, symptoms start to resolve.  The programs I give my clients are based on symptoms, blood work, health history, genetics, and lifestyle components. I source the highest quality supplements from companies who I trust have quality control. I employ other cutting edge modalities for optimal health in my practice, and will recommend and use them when necessary.  They include scalar wave lasers (Infrared, red and violet light therapy) for wound and injury healing, pain, and nervous system support; clay packs for detoxification; and other protocols that are ancient healing remedies, non-standard, and highly effective.  Many of the therapies I recommend are a blend of Chinese and western medicine.  I believe in the integration of the two.  I am an eternal student of health and the human body, and enjoy sharing and educating the people I have the pleasure of working with.
EDUCATION
Rachel holds a B.S. in Health and Human Performance, and a minor in Psychology from the University of Montana.  She is a licensed Massage therapist, an A.C.E. certified personal trainer, and a diplomat member of the American Association of Nutritional Consultants.  In addition, she holds a nutritional mastery certification from Biotics Research Corporation. 
Charities Supported by Rachel
— a portion of proceeds will be donated to the charities listed below —
Rachel's Essentials for Limitless Living