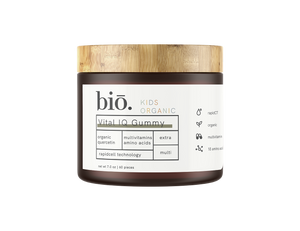 Ingredients:
rapidCT Proprietary Complex (Quercetin, Vitamin B1, Vitamin D3), Vitamin E (30 mg), Vitamin B9 Folate (200 mg), Magnesium Gluconate (50 mg), Alpha-GPC (50 mg), Vitamin C (30 mg), Vitamin B3 Inositol hexaphosphate (non-flushing) (8 mg), Vitamin B5 (2.5 mg) Vitamin B2 Riboflavin-5-Phosphate Sodium (0.75 mg), Vitamin B6 Pyridoxal-5-phosphate (0.65 mg), Vitamin A (450 mcg), Vitamin B7 (15 mcg), Vitamin B12 Methylcobalamin (1.2 mcg)

All quantities listed above are per serving.

Gummy ingredients: Organic Tapioca Syrup, Organic Cane Sugar, Gelatin, Organic Lemon Juice Concentrate, Organic Tapioca Starch, Organic Potato Starch, AGAR, Citric Acid, Organic Sunflower Oil, Coloring (Black Carrot Juice, Carrot Juice, Turmeric, Red Beet Extract), Natural Flavors, Organic Carnauba Wax.
---
Recommended Use:
Take two gummies daily. Increase or decrease amount as needed.
Gummies are subject to melting if high temperatures are encountered during the shipping process.