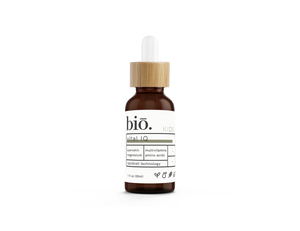 Ingredients:

rapidCT Proprietary Complex (Quercetin, Vitamin B1, Vitamin D3), Vitamin E (30 mg), Vitamin B9 Folate (200 mg), Magnesium Gluconate (50 mg), Alpha-GPC (50 mg), Vitamin C (30 mg), Vitamin B3 Inositol hexaphosphate (non-flushing) (8 mg), Vitamin B5 (2.5 mg) Vitamin B2 Riboflavin-5-Phosphate Sodium (0.75 mg), Vitamin B6 Pyridoxal-5-phosphate (0.65 mg), Vitamin A (450 mcg), Vitamin B7 (15 mcg), Vitamin B12 Methylcobalamin (1.2 mcg)

All quantities listed above are per serving.
---
Recommended Use:
Place one full dropper (1 mL) under the tongue and hold for 30 seconds before swallowing. Increase or decrease amount as needed.
All BioReigns tinctures can be added to your favorite beverage!