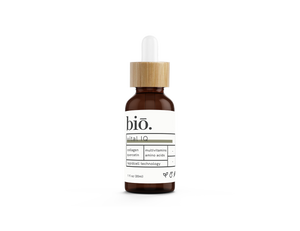 Ingredients:
rapidCT Proprietary Complex (Collagen, Quercetin, Vitamin B1, Vitamin D3, Vitamin E, and blend of 18 Amino Acids) (65 mg), Vitamin B9 Folate (400 mg), Magnesium Gluconate (100 mg), Alpha-GPC (100 mg), Vitamin C (60 mg), Vitamin B3 Inositol hexaphosphate (non-flushing) (16 mg), Vitamin B5 (5 mg) Vitamin B2 Riboflavin-5-Phosphate Sodium (1.5 mg), Vitamin B6 Pyridoxal-5-phosphate (1.3 mg), Vitamin A (900 mcg), Vitamin B7 (30 mcg), Vitamin B12 Methylcobalamin (2.4 mcg)

All quantities listed above are per serving.

Amino Acid Blend: Alanine, Argenine, Aspartic Acid, Cysteine, Gluatmic, Glycine, Histidine, Hydroxproline, Isoleucine, Leucine, Lysine, Methionine, Phenylalanine, Proline, Serine, Threonine, Tyrosine, Valine
---
Recommended Use:
Each day, place one full dropper under the tongue and wait 30 seconds before swallowing.

All BioReigns tinctures can added to your favorite beverage!